< Return to the For Your Students Grades 3–5 page…
When you enter this classroom you are unique, explorers, authors, musicians, readers, successful, inventors, respected.
These words welcome visitors to teacher Debbie Elkayam's fifth grade classroom at Haskell Elementary School, an LAUSD school in the San Fernando Valley. And they are a perfect representation of the teacher and her students.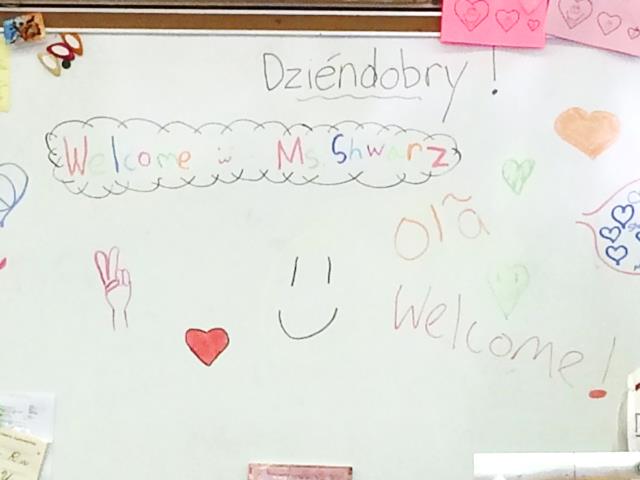 A warm greeting in Polish, my native language, welcomes me to Ms. Elkayam's classroom. Dzień dobry (d͡ʑɛɲ ˈdɔbrɨ) means "hello," or "good day," in Polish.
Several years ago, I met Ms. Elkayam during her class field trip to the Skirball for the extremely popular Grade 5 school tour of Americans and Their Family Stories. I was one of the educators leading the interactive tour in which students explore the commonalities and differences among immigrant stories from around the world. At one point in the tour, Ms. Elkayam mentioned that she uses this tour—along with the Skirball's teacher guide and creative activities she designed herself—to make the topic of immigration and heritage more personal for her students. Curious about how she did so, my next question was: When can I visit your classroom?
Soon, I was happily on my way to Haskell Elementary for the first of two planned visits. On my first trip in February, I learned how Ms. Elkayam prepares students for the program at the Skirball by connecting the theme of immigration to their lives.

Left: As an assignment about family values, students created their own family coat of arms. Right: Another class project was to create a classroom quilt. Each student and teacher added their own quilt square, describing their country of origin, family recipe, favorite food, and favorite holiday.
Looking around the classroom, I saw projects displaying illustrated family stories, art making, and explorations of the diverse heritage of her students. Clearly, the Americans and Their Family Stories tour worked extremely well within Ms. Elkayam's curriculum.
Ms. Elkayam wants her students to be proud of their roots, which is why—using one of the Skirball-designed activities—she invited students to interview a family member about his or her family story and to identify an important heirloom. For weeks, students were hard at work on this research project, and I was fortunate enough to see the students present their final projects during my first visit.
There were so many other stories. Some were moving; some were funny. But they were all wonderful because they were told from the heart.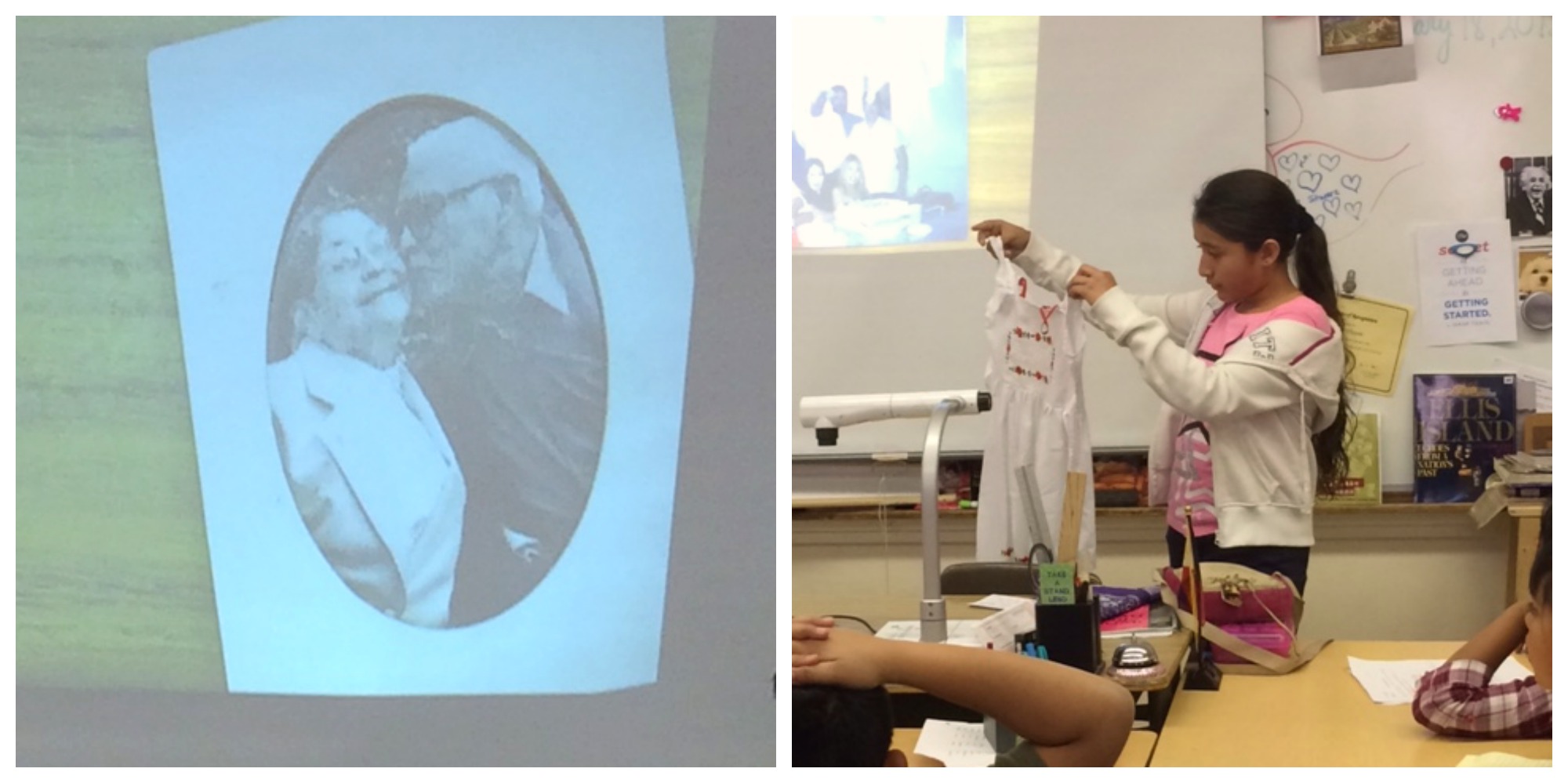 Left: Gustavo shared his grandparents' love story. It was love at first sight all those years ago! Right: Paulina shared family photos and the story of her grandmother, who traveled to the US from Zacatecas, Mexico. Here, she shows the classroom a dress her grandma made for her. She also talked about her favorite food, mole.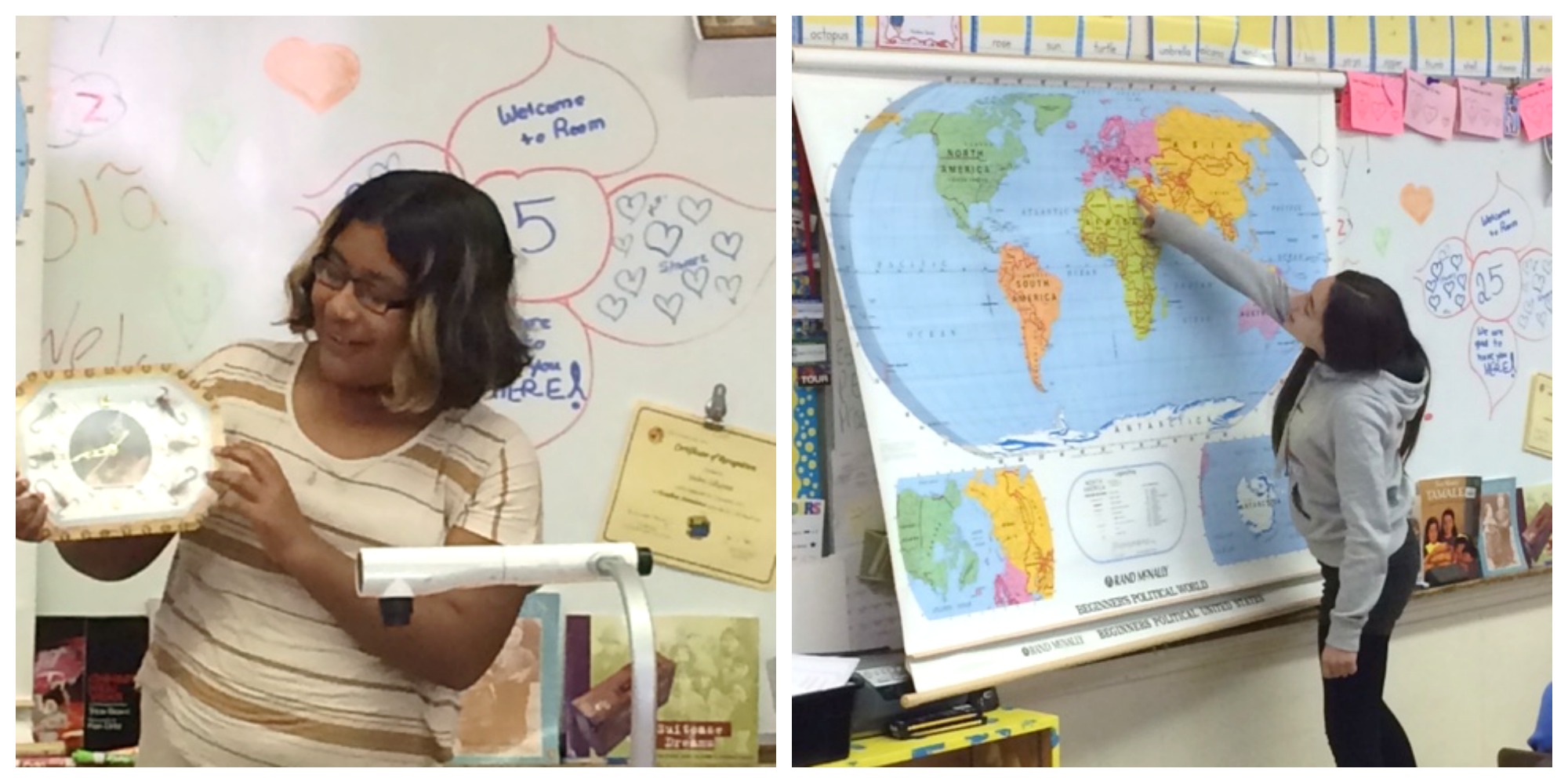 Left: Kathryn shows off a handmade family heirloom—a clock her grandfather made for her dad. She hopes to inherit it on her twentieth birthday, as is her family's tradition. Right: Celine points to Lebanon, where her family lived before moving to the US.
All of this personal storytelling perfectly prepared the students for their field trip (with me as their guide) to the Skirball later that month. Dressed as Jewish immigrants from 1908, we took a ship to Ellis Island, where inspectors made sure we were safe to enter the country and join the hustle and bustle of New York tenement life. We enjoyed a delicious Shabbat dinner at our Bubbe's house and experienced a typical school day at the turn of the century. We discovered many commonalities between immigrant stories from the past and present and walked away feeling more connected to one another.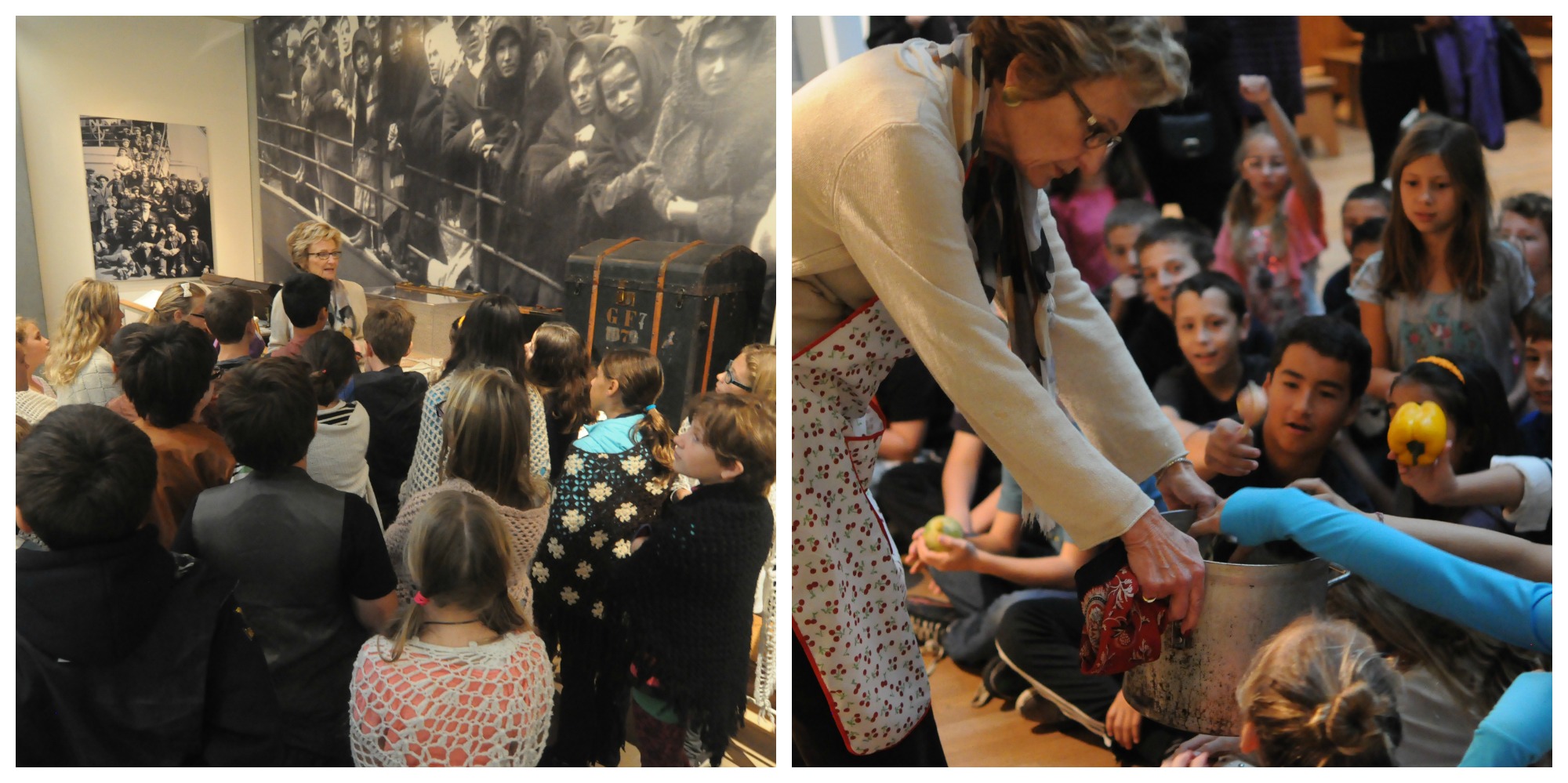 Left: Students dress up as European immigrants from the turn of the century. Right: Using grandma's traditional recipe, students make chicken soup.
If you think that the school tour was the end of this unit on heritage and immigration, think again. During my second visit to the school site, I discovered how Ms. Elkayam and her class dove deeper into the themes of culture and heritage. Ms. Elkayam had a big finale planned—a live musical performance and class potluck! Students spent many long hours preparing and practicing for the culminating performance, learning song lyrics, designing and making a set, and cooking food from their family recipes. The musical, performed by Ms. Elkayam's class each year, is based on We Come from Everywhere: a Musical Play for Kids by Ron Fink and John Heath. Ms. Elkayam makes the performance unique by adjusting song lyrics to reflect her students' particular family experiences. Just like each of the students' stories, the show was touching, sad, funny, and exciting! Naturally, it was followed by a standing ovation from the audience, including the many family members in attendance.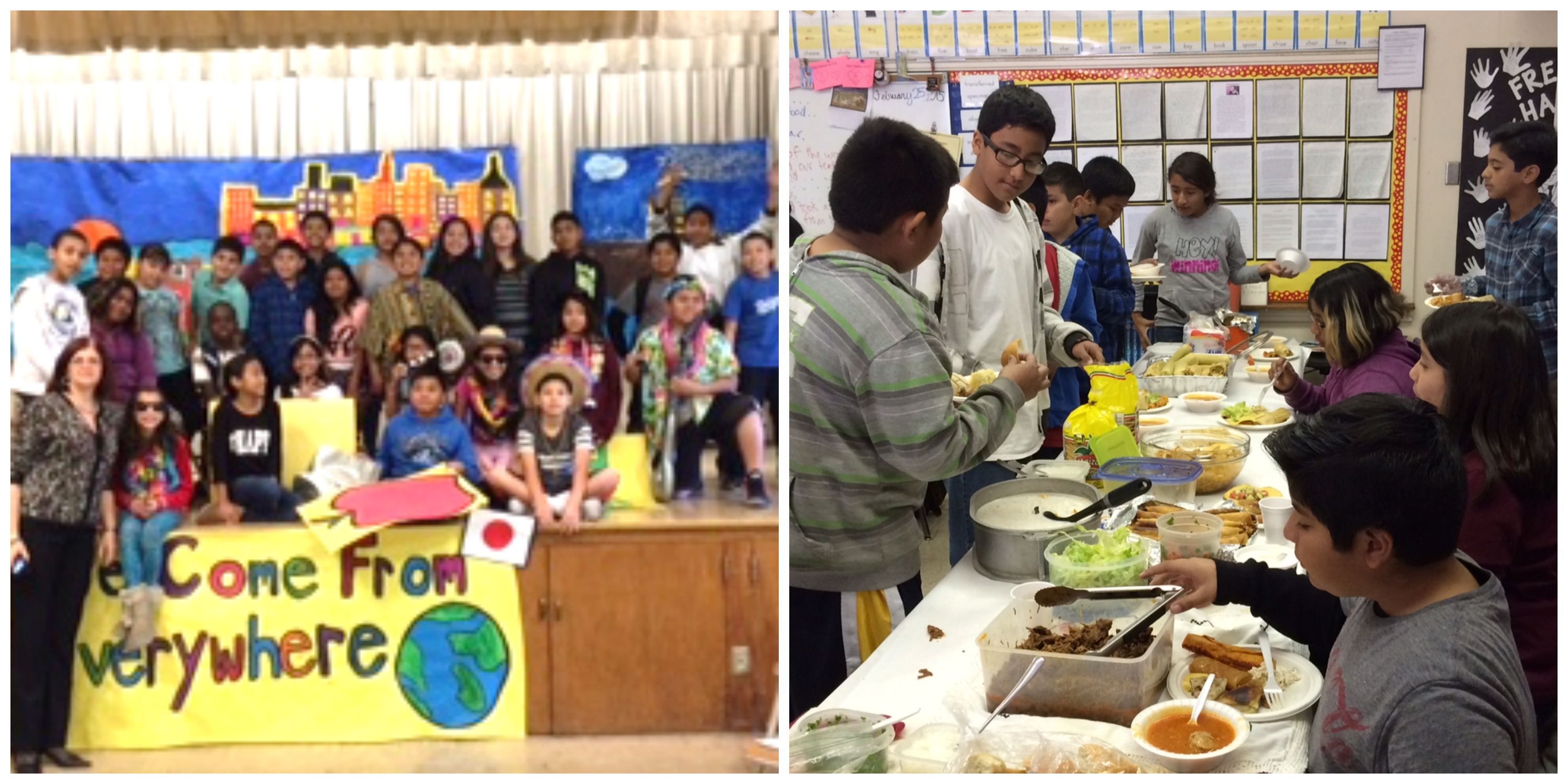 Left: Debbie Elkayam and her fifth grade magnet class. Right: Students enjoy food from cultures around the world.
Thanks to the parents, the food was as much an expression of the diversity of the students as the presentations had been. The potluck lunch included pozole, tamales, flautas, tabouli, Irish potatoes, dolmas, lumpia, pupusas, two versions of arroz con leche, and Egyptian coconut and almond dessert. And that's only about half of the menu! The students described their dishes in great detail and served them carefully, as they had worked hard to prepare them at home.
Visiting Haskell Elementary was by far the highlight of the school year for me. Ms. Elkayam equips her students to become explorers, readers, artists, authors, and more. She offers them a space where they are safe, respected, and set up for success in all of their endeavors because she honors who they are and where they've come from.
At the Skirball, our school programs celebrate diversity and encourage students to embrace one another's cultural heritage and family stories. We come from everywhere; our heirlooms, food, and music may look, taste, and sound different, but we find the common threads in our experiences and celebrate them. Preparing students for a field trip to the Skirball, as Ms. Elkayam does, deepens their museum experience and reminds them that they are an important part of the diverse community of Los Angeles.
If you are a teacher who integrates Skirball school tours into your curriculum, we want to hear from you! Share your experiences on our Facebook page Skirball for Teachers or email us at education@skirball.org. We'd love to visit your classroom!
—Anna Schwarz, Senior Educator of School Programs, June 4, 2015