Tuesday, May 19, 2020
By Dani Killam and Cate Thurston
Like many of you, we at the Skirball are missing our friends, including Bill Graham, Ruth Bader Ginsburg, and Rudi Gernreich—three influential Jewish figures whose lives and careers have been explored in recent Skirball exhibitions. We're pleased to say that all three shows are currently traveling to institutions across the country.
In celebration of Jewish American Heritage Month, we draw inspiration from these three prominent Jewish Americans and reflect on what actions they would take, or currently are taking (we see you, RBG), during this time. Although the venues mentioned below are all temporarily closed, it is good to know that once we are allowed to safely gather in public spaces again, audiences nationwide will be able to learn about the impact of these important Jewish figures.
---
Bill Graham and the Rock & Roll Revolution
Current Venue: New-York Historical Society, reopening date TBA
Bill Graham is considered the godfather of concert promoters. He paved the way with his famous Fillmore and Winterland venues in San Francisco and New York City, creating unforgettable musical events. Graham's own experience of fleeing Europe as a young boy during World War II greatly influenced his life and work, turning him into a lifelong humanitarian. Graham was the mastermind behind such benefit concerts as Human Rights Now!, For a Free South Africa, and most notably, Live Aid. Uniting through music and raising awareness is one of Graham's lasting legacies. If he were alive today, it's safe to say that he would be setting the standard for virtual performances in support of various relief efforts.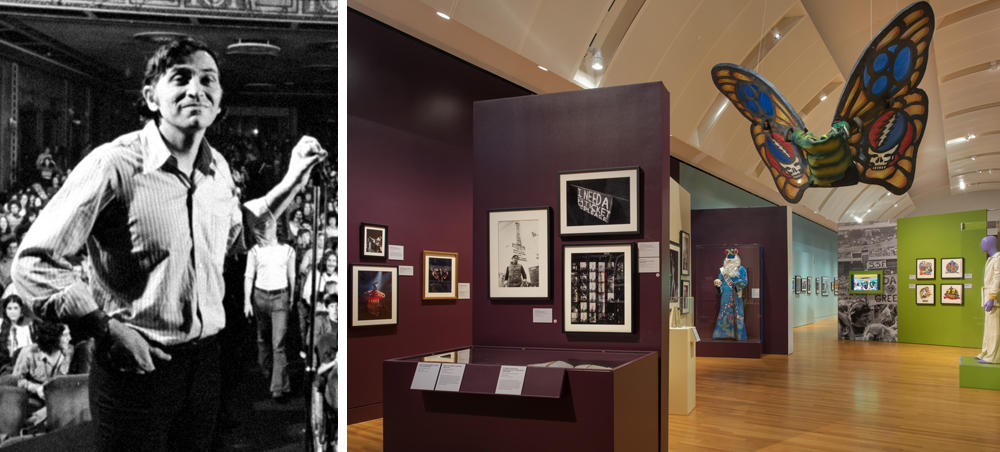 Left: Bill Graham onstage before the final concert at Fillmore East, New York City, January 1, 1970. Photo by John Olson, The LIFE Picture Collection/Getty Images. Right: Installation of Bill Graham and the Rock & Roll Revolution at the Skirball Cultural Center, 2015. Photo by Robert Wedemeyer.
---
Notorious RBG: The Life and Times of Ruth Bader Ginsburg
Current Venue: Illinois Holocaust Museum and Education Center, reopening date TBA
Your nonstop Zoom calls have nothing on RBG's busy schedule. In between participating in oral arguments over the phone and undergoing outpatient treatment for a medical issue, the justice has managed to make time for her famous workouts during one of the most stressful periods in modern history. Growing up in a working-class Jewish neighborhood, with a deep appreciation for the ancestral value of pursuing justice, she has labored tirelessly on behalf of America's highest ideals throughout her career. We don't have to imagine what RBG might be up to, we see it: working, slaying, and standing up for the rights of others. #WorkFromHomeGoals.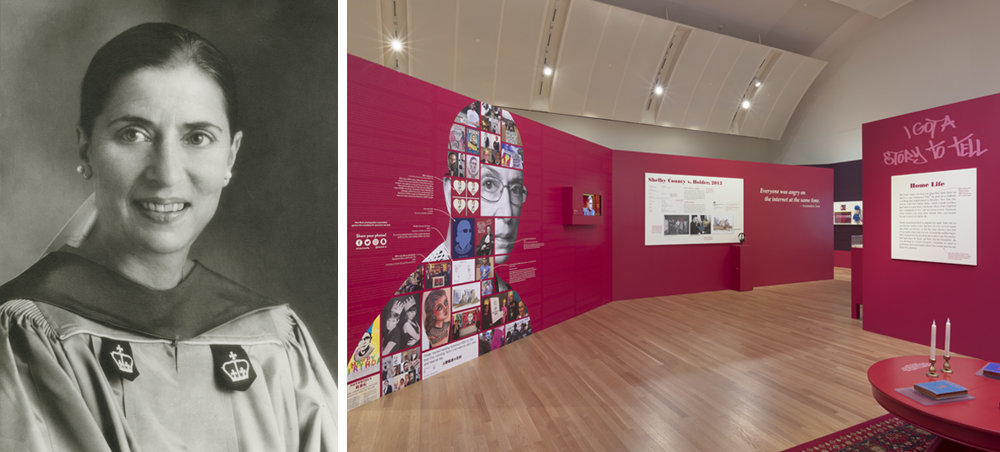 Left: Professor Ginsburg, Columbia Law School, 1972. Collection of the Supreme Court of the United States. Right: Installation of Notorious RBG: The Life and Times of Ruth Bader Ginsburg at the Skirball Cultural Center, 2018. Photo by Robert Wedemeyer.
---
Fearless Fashion: Rudi Gernreich
Upcoming Venue: TBA

We've already explored how Rudi Gernreich's fashion designs from over fifty years ago would fit nicely into our current lifestyle, but Gernreich was as much about substance as he was style. A Viennese Jew, Gernreich immigrated to the United States from Austria in 1938, fleeing the oppressive and anti-Semitic Nazi regime. In America, he used his fame to speak out for social issues close to his heart. As an activist, Gernreich supported women in the fight for the Equal Rights Amendment, advocated for the garment industry of Los Angeles, and campaigned for LA's first African American mayor, Tom Bradley. No doubt, if Gernreich were alive today, he'd be using his voice to highlight causes and issues that benefit the greater good—and he'd inspire us to do the same.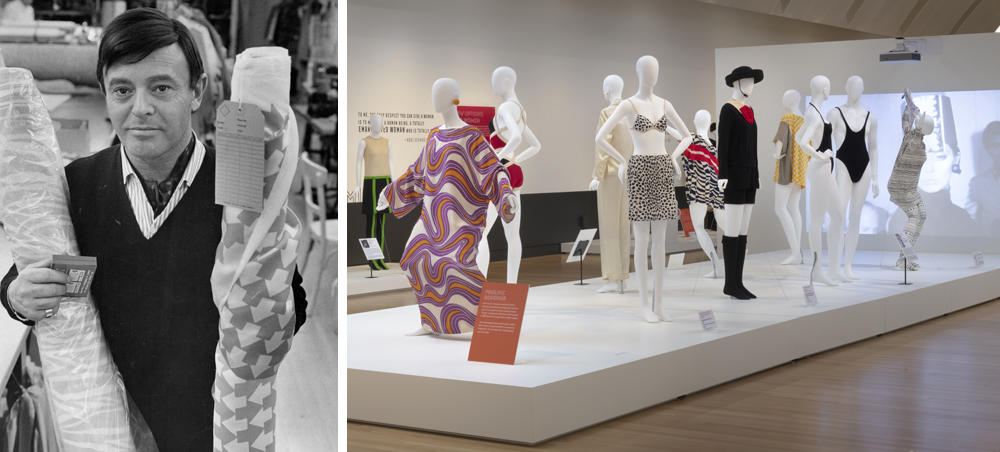 Left: Rudi Gernreich holding bolts of fabric, Los Angeles, 1966. © William Claxton, LLC, courtesy of Demont Photo Management & Fahey/Klein Gallery Los Angeles, with permission of the Rudi Gernreich trademark. Right: Installation of Fearless Fashion: Rudi Gernreich at the Skirball Cultural Center, 2019. Photo by Robert Wedemeyer.
---
Danielle (Dani) Killam, Exhibitions Coordinator, is the co-curator of Fearless Fashion: Rudi Gernreich. She manages the Skirball's traveling exhibitions and acts as courier for each subsequent venue. She received a BA in American history from the University of California, Santa Cruz, and began her career in the museum field working at the FIDM Museum.
Cate Thurston, Associate Curator, is the curator of Notorious RBG: The Life and Times of Ruth Bader Ginsburg. At the Skirball, Thurston has curated "I'll Have What She's Having": The Jewish Deli, Paul Simon: Words & Music, Chasing Dreams: Baseball and Becoming American, and The Unauthorized History of Baseball in 100-Odd Paintings: The Art of Ben Sakoguchi. She holds a BA in American history from Franklin Pierce University in New Hampshire and an MA in public history from California State University, Northridge.