Thursday, May 28, 2020
By Cate Thurston, with research by Dani Killam
Hello, and welcome to Aisle Style!—the only blog-based game show where "nearlyweds" can pick something from the Skirball Museum collection for their big day. (Well, they can pretend to, at least.) As you may know, the Skirball preserves an incredible collection of cultural resources related to Jewish weddings and celebrations. Our holdings reflect the joys and traditions of this life cycle event.
For two Skirball staffers, the current moment has put their upcoming nuptials on hiatus—but that doesn't mean we can't have a little fun in the meantime. Members of the Museum team have offered to help with a little style inspo using the Skirball's impressive collection of wedding garments.
Each of the betrothed will be presented with two options: one outfit based on their stated preferences, and a second wildcard outfit that showcases the breadth of our holdings.
Ready? Let the games begin!
---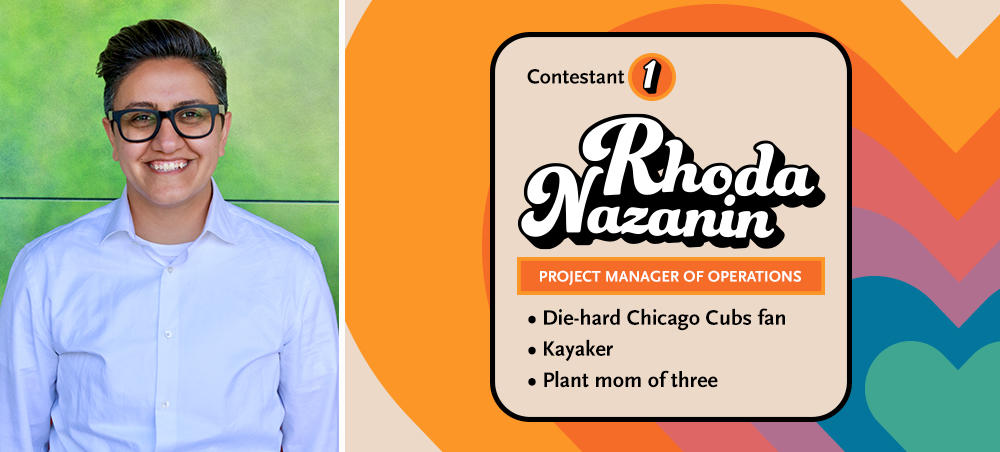 Last Thanksgiving, Rhoda and her fiancé, Sarah, got engaged next to the Gateway Arch in St. Louis. The two hope to have a spontaneous courthouse wedding.
Rhoda is looking to wear a suit: "I'm thinking either a light gray suit or a navy blue, two-button jacket. I like my pants to be well-fitted and skinny on the bottom. I was thinking of maybe wearing just a tuxedo shirt with no bow tie. Another option would be a regular white button-up shirt and a skinny tie. If I'm not wearing any kind of tie, then I would substitute with suspenders."
Alright, it looks like we've got some options here. Let's see what we can do.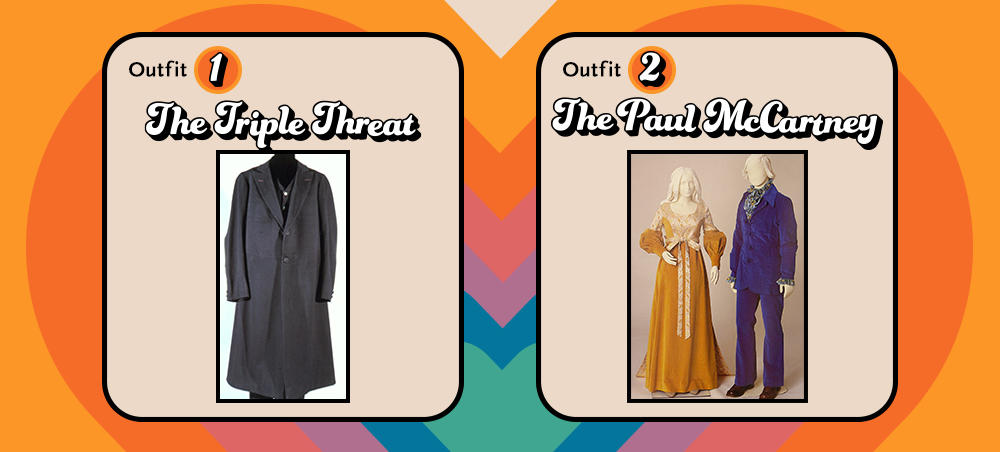 Left: Gift of Thelma Geller, Skirball Museum, Skirball Cultural Center, SCC 9.21a-c. Right: Gift of Ruth Felmus and Family, Skirball Museum, Skirball Cultural Center, SCC 9.44a-c.
Outfit #1: The Triple Threat
This handmade three-piece suit is from Ukraine and was worn by Jacob Lanvin for his wedding in 1900. The garment consists of a knee-length coat, pants, and a vest with a cotton lining that has been sewn in using brown thread. Lanvin brought the suit with him to the United States when he immigrated in 1911. After his death, the suit was almost given away to a ragpicker but was saved by a family member.
Outfit #2: The Paul McCartney
Wedding clothing reflects the wearer's personality as well as their traditions. This cotton velveteen suit was designed and made by textile artist Joan Felmus for her wedding to David Holtzclaw in 1973. Holtzclaw's suit is loosely based on Edwardian style and influenced by the Beatles circa Sgt. Pepper's Lonely Hearts Club Band. This flashy 1970s look features a royal blue jacket with a wide-cut collar and bell-bottomed trousers. The shirt is made of synthetic satin and the ruffled jabot and cuff are embroidered with flowers and butterflies.
After much deliberation, the winner is… Outfit #1: The Triple Threat! This three-piece suit is more Rhoda's style, she says. "I like the option of wearing, or not wearing, a vest."
---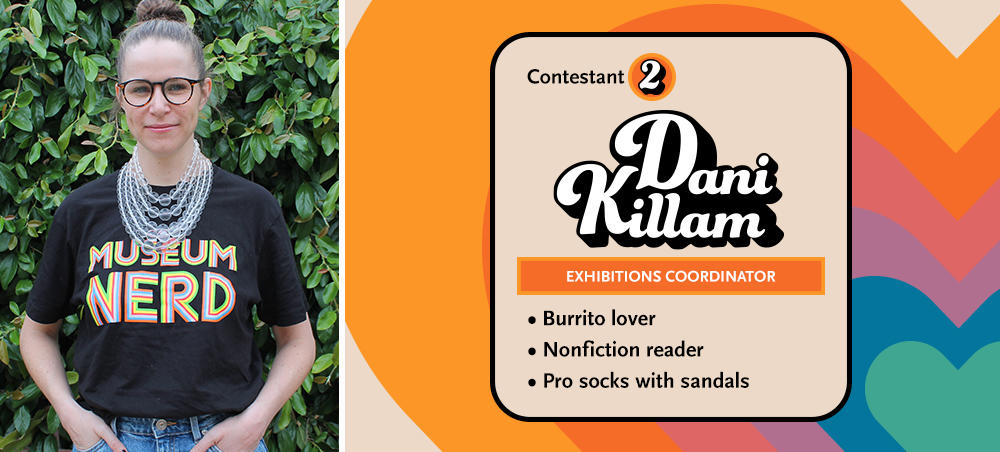 Dani and her fiancé, Derek, got engaged in 2018 while on vacation in Vancouver, British Columbia. The couple was planning on getting married this fall at a romantic California venue but are currently weighing their options with a focus on the safety of their guests.
Of her dream dress, Dani says: "As a young girl, I had envisioned wearing the same wedding dress as my mother. When my parents were married here in Los Angeles in 1981, my mother chose to wear my great-grandmother's dress from the 1920s. The style was typical of the era, with a drop-waist and heavy beading. Unfortunately, the condition of the garment is too fragile for me to wear for my upcoming nuptials. Now that I have free rein, my ideal wedding dress is clean, simple, and easy to dance in."
Some solid direction here. Nice! I think we've got some winners for Dani.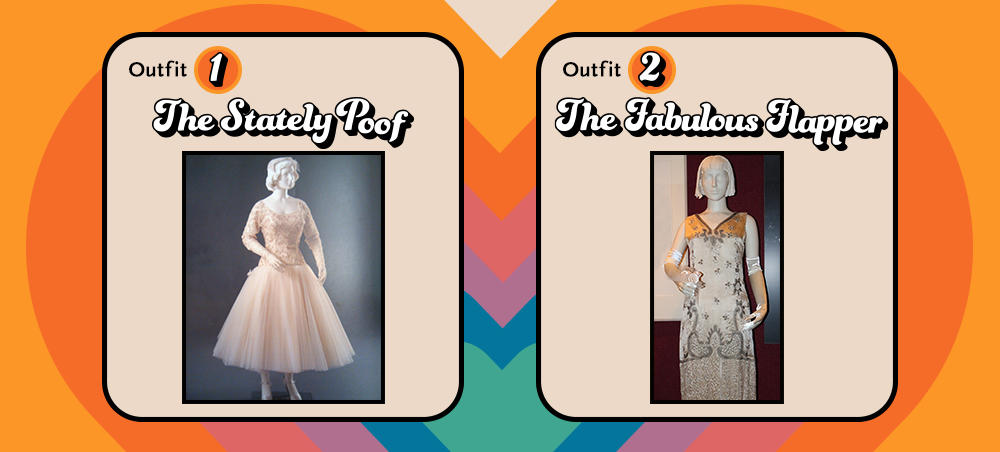 Left: Gift of Judy M. Cowen, Skirball Museum, Skirball Cultural Center, SCC 9.28a-d. Right: Gift of Marilyn Friedman Hasson, Skirball Museum, Skirball Cultural Center, SCC 9.45.
Outfit #1: The Stately Poof
Judith Moss wore this dress to her 1955 wedding in Los Angeles. Purchased at Saks Fifth Avenue, this dress was designed by Don Loper, a well-known Southern California dress designer of the 1950s and 1960s. The rayon faille skirt falls from the hip with three over-layers of tulle. The pearl-embroidered bodice of machine-made lace, with its sinuous ribbon pattern, is woven to look as though it was hand appliquéd. The bride wore elbow-length gloves in matching lace and a faille pancake hat embroidered with seed pearls and rhinestones.
Outfit #2: The Fabulous Flapper
This flapper style dress was worn by Jeanette Bergman on her wedding day in 1926. Bergman helped design this sleeveless silk crepe and satin dress with a local New York City dressmaker. The dress has a central "C" scroll design motif, along with a stylized floral pattern that is echoed throughout the glass bead and rhinestone embroidery. Bergman's dress reflects post–World War I taste, which broke from the modest yet more figure-conscious bridal styles of the early twentieth century.
Drumroll, please… The winner is Outfit #2: The Fabulous Flapper! Dani explains, "This dress lets me live out my childhood wishes of wearing my mother's dress from the same time period—and I can definitely dance all night in that silhouette."
---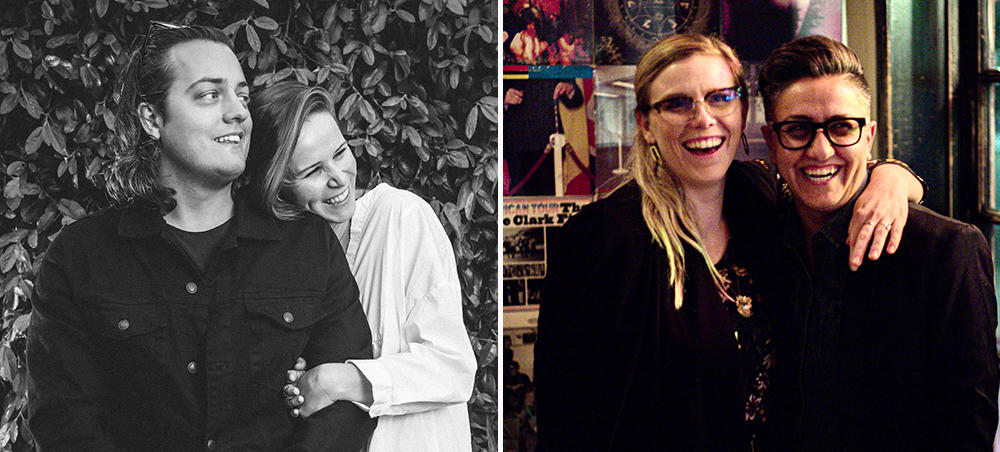 Left: Dani Killam on the right with her fiancé, Derek. Right: Rhoda Nazanin on the right with her fiancé, Sarah.
Ah, sweet love! So glad we could hear from these lovebirds as they look forward to marital bliss. Although we can't actually loan out items from the Skirball's Museum collection, we hope they take some inspiration from these looks of yore. Wishing them all the best in finding that right 'fit, and with every other good thing on the horizon.
---
Cate Thurston, Associate Curator, is co-curator of the Skirball's upcoming exhibition "I'll Have What She's Having": The Jewish Deli. At the Skirball, Thurston has curated Notorious RBG: The Life and Times of Ruth Bader Ginsburg, Paul Simon: Words & Music, Chasing Dreams: Baseball and Becoming American, and The Unauthorized History of Baseball in 100-Odd Paintings: The Art of Ben Sakoguchi. She holds a BA in American history from Franklin Pierce University in New Hampshire and an MA in public history from California State University, Northridge.
Danielle (Dani) Killam, Exhibitions Coordinator, is the co-curator of Fearless Fashion: Rudi Gernreich. She manages the Skirball's traveling exhibitions and acts as courier for each subsequent venue. She received a BA in American history from the University of California, Santa Cruz, and began her career in the museum field working at the FIDM Museum.