Wednesday, May 6, 2020
By Laura Mart

As Los Angeles enters its second month safer at home, I am struck by the legacy of public health nurse Lillian D. Wald (1867–1940). Featured prominently in our permanent exhibition, Visions and Values: Jewish Life from Antiquity to America, Wald recognized more than one hundred years ago that the health of a society is only as secure as the health of its most at-risk members.
A pioneer in the field of public health nursing—a term she herself coined—Wald came from a well-to-do Jewish family in Cincinnati, Ohio. In 1889, when Wald was twenty-two years old, she moved to New York City to become a nurse. There, her path to becoming one of the most prominent reformers of the Progressive movement began quite humbly: by teaching home nursing skills to immigrant families in the densely populated Lower East Side.
On her way to teach one day, a child approached, pleading with Wald to save her mother who was hemorrhaging after having given birth several days earlier. As the child led Wald through the squalid alleys, courtyards, and hallways of the tenements, Wald witnessed the immense challenges facing the people who lived there: untreated sewage leaked from pipes; families of nine slept crowded in a single room; children played in dirty and dangerous conditions; and women sewed endlessly on piecework to supplement the low wages they earned in garment factories. Understanding the dire human consequences of such neglect, Wald dedicated her life to providing health services to those in need and to bringing about societal changes that would improve conditions for immigrants and the working class.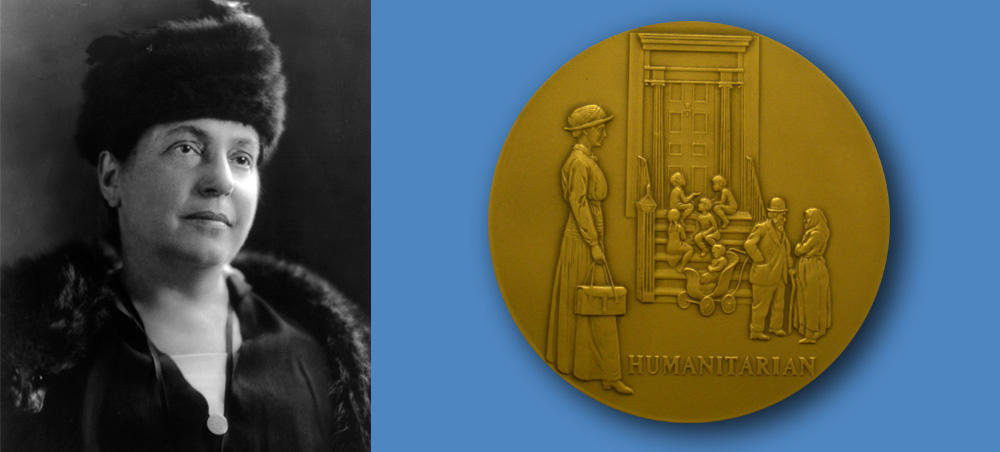 Left: Lillian Wald, 1920. Photo by Harris & Ewing. Courtesy of the Library of Congress. Right: Medal honoring Lillian D. Wald (1867–1940). Cast bronze. Skirball Museum Collection.

In 1893, together with her friend and colleague Mary Brewster, Wald founded Henry Street Settlement—joining the growing "settlement movement" in which predominantly young, upper- and middle-class women moved into tenement neighborhoods to provide services for their neighbors. Henry Street's main focus was offering free or low-cost public health services for the Lower East Side community.
Over the years, Henry Street Settlement has expanded its footprint and its mission, adding arts and literacy programs, home nursing lessons, summer camps, financial services, and much more to its offerings. They were even at the forefront of a groundbreaking development in urban life: safe public playgrounds for children who had previously been playing on busy city streets. By meeting the interconnected needs of Lower East Side residents, Henry Street has been a vital resource for its working-class, immigrant community for more than a century.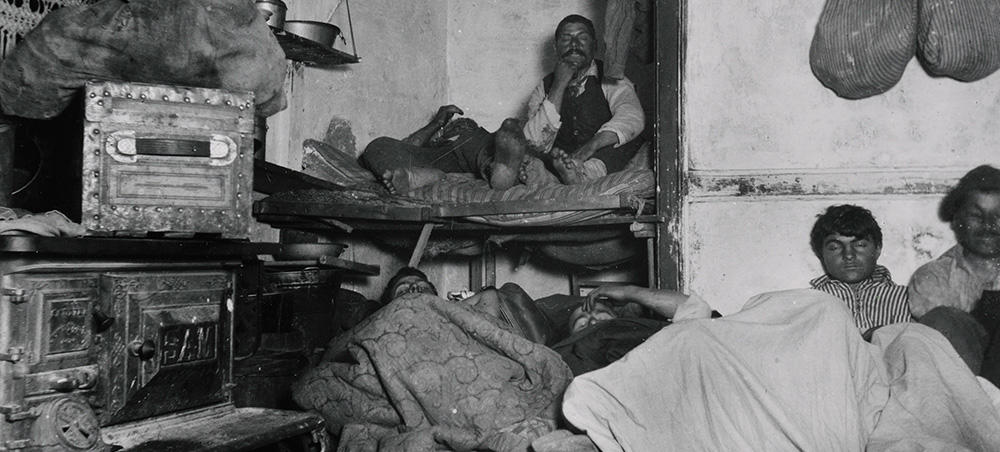 Jacob A. Riis, Lodgers in a Crowded Bayard Street Tenement—"Five Cents a Spot," 1889. Courtesy of Wikimedia Foundation.

Beyond her work with Henry Street, Wald served on the New York State Commission on Immigration, improving living and working conditions for immigrants; the New York State Woman Suffrage Party, securing women's right to vote; the National Child Labor Committee, working to end child labor; and the American Union Against Militarism, opposing the United States' entry into the First World War, among other committees, commissions, and councils.

During the 1918 influenza pandemic, Wald served as chair of the Red Cross Nurses Emergency Council. She organized a corps of hundreds of volunteer nurses—men and women, trained and untrained—to help care for the surging population of New York City's sick.

Wald's work influenced a wide range of visionary reforms, but her desire for an affordable national healthcare system has yet to be fully realized. As I witness the disproportionate toll that COVID-19 is taking on people of color and low-income communities, it is apparent that many of the same ills faced by vulnerable communities in Wald's time—like unstable living conditions and a lack of affordable healthcare—still contribute to vast inequality today. In these troubling times, let's look to Wald's example. By lifting up the vulnerable among us, we will only be made stronger.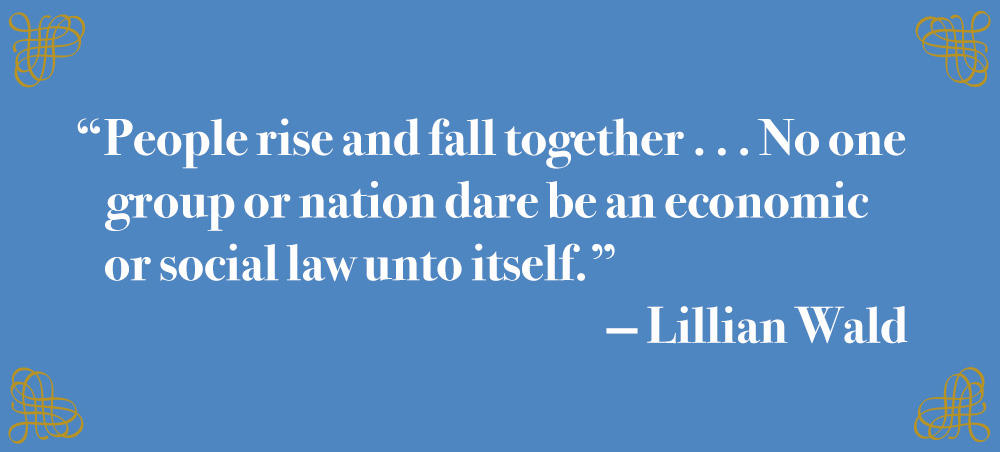 ---
Laura Mart, Assistant Curator, contributes to the Skirball's permanent exhibition, Visions and Values: Jewish Life from Antiquity to America, as well as temporary exhibitions. At the Skirball, Mart has curated "I'll Have What She's Having": The Jewish Deli; El Sueño Americano | The American Dream: Photographs by Tom Kiefer; Another Promised Land: Anita Brenner's Mexico; and Surface Tension by Ken Gonzales-Day: Murals, Signs, and Mark-Making in L.A. She earned a BFA in studio and theater arts from Washington University in St. Louis and an MA in art history from the University of Chicago.